Home | About | Calendar | Champions | Club Rules
Home Page
Club AGM 2016
The Southampton Chess Club AGM will take place at St Denys Community Centre on Tuesday 6th September at 19:30. Click here to view the agenda.
Club Winners for 2015/16
The tournament controller reports that the prize winners and honourable mentions for 2015/16 are:
Club Champion: Gareth Jones 2nd Place: Robin Williams 3rd Place: John Davis Under-140: John Davis Under-120: David Murchie Under-100: Paul Chinkin Club Knockout: Fraser McLeod
Prizes will be awarded at the AGM in September.
News Updates
The club's teams have had further successes since the last website update. Notably:
Robertson Plate: The B team have won the Robertson Plate after defeating Winchester 3.5-1.5 in the final


Rapidplay Championship: The rapidplay team have won the Rapidplay League. Some of the results of this competition can be viewed here.


Cole Cup: The cup team have managed to win the Cole Cup on board count with the match score in the final against Emsworth at 2.5-2.5. The result of Godfrey's game on board 1 was adjudicated in our favour by the cup controller after a dispute arose over a double flag fall. This decision was then upheld by the league committee.
League Success
The club has had a very successful league season, winning three divisions out of four in the Southampton Chess League.
Congratulations to everyone who played for these teams. In addition all of club's teams have progressed to the finals of their cup competitions.
Robertson Cup: the A team will play Southampton University.
Robertson Plate: the B team will play Winchester.
Cole Cup: the team will play Emsworth.
Junior Chess
There will be no Junior chess during the school holidays, that is on March 29th and April 5th. The last session for this season will be on May 24th. We hope to start again next season on September 13th.
Junior Chess
The Junior and improvers chess meetings in the New Year will start on 12th January and will continue to meet every Tuesday evening from 6 to 7pm at St. Denys community centre, Priory Road SO17 2JZ preceding our normal club meeting.
Volunteers are needed to help, if you can assist please contact Paul on 02380 432490 or email Paul on phurnsoton@gmail.com .
Les Allen
Long-standing member and current club champion Les Allen passed away on the morning of the 22nd December. Les was a well-regarded and respected member, and will be sorely missed.
The funeral service for Les will be held at St John's Church, Rownhams at 1.30 pm on Thursday 7th January.
Club Championship
The current standings in the club championship are available on the Activities Page. The club championship table and the knockout cup results will be updated regularly.
Rapidplay Tournament
The Rapidplay Tournament this year is on November 21st. Please support the tournament by registering online, or completing an entry form.
Draw for the Knockout Tournament
The draw for the knockout tournament has been made. Please see the Activities Page for details.
Junior and Improvers Chess
We are moving our Junior and improvers chess from Saturday mornings, fortnightly at Sainsburys, to every Tuesday evening from 6 to 7pm at St. Denys community centre, Priory Road SO17 2JZ preceding our normal club meeting.
Our last morning at Sainsburys will be at 10am on Saturday the 10th of October, and our first evening at St Denys will be at 6pm on Tuesday the 13th of October.
Lightning Tournament
The first lighting tournament of the season was held on 15th September. Please see the activities page for a full crosstable of results.
Commencement of the 2015-16 Season
The 2015-16 season has now commenced. Meetings will occur every Tuesday (the first interruption, just before XMAS will be published in good time).
Details of the first meetings in September are now available on the
Calendar Page
This page is likely to be fleshed out shortly. For the moment, details of League and Cup matches are downloadable from the Fixtures page of the League website.
Club Championship Results
Dave Nelson, the Tournament Controller reports:
The final standings for the club championship have now been confirmed.

Congratulations to Les Allen for winning the title, a terrific achievement.

Special mention also goes to Gareth Jones who finished 2nd, and Robin Williams who finished 3rd.

The grading prize winners are as follows:
Under 140 - Dave Agostinelli
Under 120 - Tim Cutter
Under 100 - John Comber
Congratulations to all three.

Prizes will be awarded at the AGM in September.
June Activities
The Club Calendar has been updated to show details of the June activities in the last 4 weeks of the season. The notes column has a link to a document giving details of those activities, which include Pairs Chess, Fischer Random, Handicap Blitz and Speed Chess.
Club Championship Update
The details on the activities page are now current as after Tuesday 12th May.
Thanks to Robin Williams for a new presentation of the Club Championship standings.
You'll initially see a table of standings, similar to that on the Activities Page. Please ensure (if you can) that your window is wide enough to view another table to the right of it.
If you click on any line in the first table (showing the details for a player), you should see another table to the right of the first table, showing details of all the games.
Robin hopes, by this means, to satisfy doubting Thomases who have expressed scepticism as to the veracity of the new system! But it also looks to be a very useful feature for the future.
Report on Simultaneous Exhibition by Oliver Gill Tuesday 12th May
Thanks to Ollie for returning to play this simul, and congratulations to Paul Hurn for achieving the only win against him.
Robin Williams reports:
Ollie Gill scored a total of 7.5 - 2.5 against his opponents in the event on May 12th 2015.
The full results are:
Gill v Moore 1/2
Gill v Hurn 0-1
Comber v Gill 0-1
Wiseman v Gill 0-1
Priestley v Gill 0-1
Nelson v Gill 0-1
Gill v Buckley 1/2
Williams v Gill 1/2
Davis v Gill 0-1
Agostinelli v Gill 0-1
Club Championship and 'Knockout' Standings
Congratulations to Fraser McLeod for winning the knockout tournament, and to Les Allen for being runner-up. Further details are on the activities page.
Club Championship details are now current as of after Tuesday 5th May on the activities page. N.B. the table has two less entries - as it now only shows those that have completed at least 8 games in the Club Championship.
And the Club Champions page has been updated with 2013-14 winners.
Gareth Jones Participating in World Senior Team Championship
Gareth Jones is travelling to Dresden on Saturday 28th February to join the England 65+ team in the World Senior Team Championship, replacing a team member for the last 4 of 11 rounds.
Knockout Cup Update
The current state of the knockout cup is now available (as at 18th February) on the Activities page.
Our A Team wins Division 1
Congratulations to our A team which now has an unassailable lead at the top of Division 1 with two games in hand, having won six matches and drawn two!. Only 3 points separates the other teams.

Robertson Cup Semi-Final
Our A team will be hosts to Southampton University A on Tuesday 17th February in a Robertson Cup semi-final.
Tony Summers
Tonight (Monday 24th November) I've received the sad news from Tony's son Kevin that Tony passed away this morning.
Tony, a retired dentist, was a very popular member of the club, and one of the longest serving members, having held chess evenings at his home which I understand may have lasted for over 40 years.
His last match for the club, an away match for Southampton F, was played at Ringwood just 4 days ago, and Tony won his game!.
His death is a great loss to the club and to his friends and family.
Game - Michael Roberts v Robin Williams
Fraser McLeod has contributed this game played between Michael Roberts and Robin Williams at the 2012 HCA congress, featuring a series of stunning sacrifices.
It seems that the sacrifices from 20.Bb5 onwards were entirely sound.
Rapidplay Tournament - Online Registration
Online Registration is now available for the Rapidplay Tournament on November 22nd
Michael Roberts
We're very sad to hear of the death of Michael Roberts ( who was an active member of Southampton Chess Club, and had previously played board 1 for IBM in the 70s, and I think may have also played for Tyrell & Green).
He will be greatly missed by many that knew him.
His funeral will be at 1:30pm on Friday 10th October in the Chapel at Hollybrook Cemetery, Southampton.
Olli Gill has contributed an annotated game against Michael (which Michael won) which illustrated some of his chess skills. It's available here (from the Southampton League website).
Revised Club Rules
Robin Williams has issued new club rules, which are available on the Rules page.
N.B. One significant change is that the time periods and rate of play for Club Championship games are now the same as for Southampton League games.
League Rules are soon to be issued for the 2014-15 season, and will be available soon from the League website rules page.
Start of 2014-15 Season
The AGM is held on Tuesday 2nd September at 7:30pm (see the right hand column for the location)
Details of the September meetings are now available in the Club Calendar.
Further details for the rest of the season will be added after Southampton League fixtures have been announced.
New members are welcome. If you're interested in possibly joining, but aren't sure - you're welcome to come to see what it's like with no obligation.
Final Club Championship Results for 2013-14
Dave Nelson Reports
Congratulations to Ollie Gill who defended his title and won all three club trophies. The challenge now will be to do it all again next season.
The final standings for the 2013-14 Southampton Chess Club Championship are as follows:
1st Ollie Gill
2nd Gillian Moore
3rd Gareth Jones
Under 140 Grading Prize - Dave Agostinelli
Under 120 Grading Prize - John Davis
Under 100 Grading Prize - Dave Murchie
Congratulations to all of the above mentioned.
The final results page is shown on the Activities Page
Competition Details Updated to 06/5/14
Dave Nelson (Tournament Controller) has supplied standings in the Club Championship, the latest state of the Knockout Competition and results of this year's simultaneous display by Oliver Gill. Please see the Activities Page for the current state of these competitions.
Cole Cup Fixture
Southampton will be at home to Fareham A on March 11th in the Cole Cup. N.B. This is likely to be the Fareham A that competes in Portsmouth League div 1, and may be stronger than the team of the same name competing in Southampton League div 4!
An Interesting Finish to a King's Gambit
The following entertaining game, played by Hubert Pawlikowski last night (as white) had a pretty finish!
Southampton Team Rapidplay Event
The event, originally scheduled for the weekend of Feb 15th, 16th has been deferred. I understand from Martin Buckley that it will happen over the next few weeks - we will be advised when new arrangements have been made.
An Interesting Ending
Fraser McLeod writes:
John Davis and Gillian Moore provided the massed spectators with the following entertaining endgame.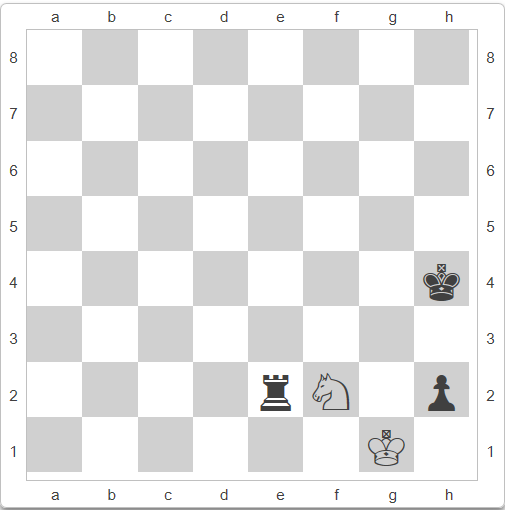 In the position shown, Gillian (white) played Kh1, no doubt hoping for RxN stalemate!
In this surprisingly tricky ending, the quickest win is to 'lose a move' by reaching the same position but with white to move.
This can be done by 'triangulating' with the king or a similar manoeuvre by the rook.
For example, Kh5 (the move chosen by John) Nd3 Kg4 Nf2+ Kh4 (same position but with white to move who is now in zugswang, with no good move)
Or, Rd2 Ne4 Rc2 Nf2 Re2

John took a slightly longer path to victory, trying to reach move 100, I believe!
Here's an uncensored view of what happened in the game - select white's 86th move to see the ending. Fraser's variations are also selectable.
Hampshire Congress Photos
24 Hampshire Congress Photos taken by Fraser McLeod are now available from the "History" menu above.
N.B. There's a view menu in the top left of the page form which you can can the pictures as either a gallery or a slideshow.
I'm afraid the technique I've used utilises Adobe Flash player - so it isn't playable on an iPad - I'll look for a different technique in future - let me know if it's causing you significant problems.
Here's Malcolm Clarke's description of the results as sent to the press:
The Hampshire Individual Chess Tournament was held at Eastleigh College for the 14th successive year and attracted over 70 players. The open section was won by Alex Ruiz who has only just moved to the area and has joined Southampton chess club. He beat previous winner Dominic Tunks on a tie break, after both players had achieved 4.5 points. They finished half a point ahead of Horia Bogdan (University) with David Fowler (Hamble) winning the under 175 grading prize.
Joint winners of the major section with 4.5 points were Alex Conway, Alex Dore and Hubert Pawlikowski, with John Symons (Salisbury) and Alex Samuels (Southampton) jointly winning the under 140 grading prize.
Robert Hewitt won the minor section with 5 points, finishing half a point ahead of Stephen Gow (University) and John Davis (Southampton), with Charles Chapman (Fareham) winning the under 100 grading prize.
The prizes were presented by the Deputy Mayor of Eastleigh Tony Noyce.
Southampton League Website
A new website is now available for the Southampton League (as yet in a basic form) which should provided some interactive features, game entry etc. (soon) , league tables etc.
The address is http://www.sotonchessleague.org.uk